This website uses technical and third party cookies. In order to continue, accept our cookies usage policy without changing your settings, accepting the policy you agree to use the cookies to view promotions and services. Approval is provided by continuing the navigation, clicking on links and page scrolling.
Stand out features
Flexibility and Convenience! Advertise vouchers with promotions, tickets for events or sell products. Give your customers the chance to buy everything they want, anywhere, anytime.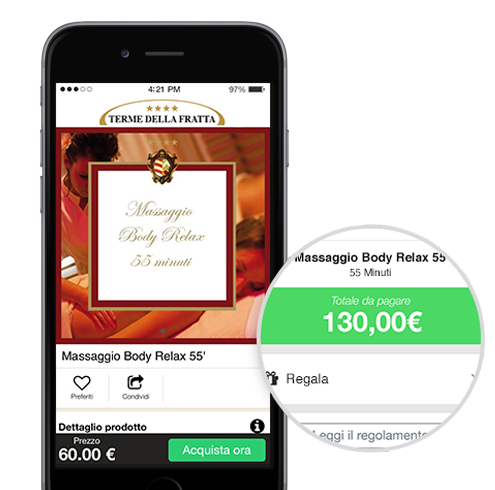 Reach your full potential
Be ambitious, unleash your imagination and choose from the various settings to take advantage of the features vouchers can offer.
Free Voucher at first purchase
Limit to the total number of vouchers that can be purchased by each user
Limit the number of vouchers that can be purchased in a time interval or by a certain date
Can be purchased only if close to a specific area
1

From the list, select the voucher that you like the most.

2

Read the voucher description and correlated starting price.

3

The first time you will be asked to log in via Facebook or by registrating through the app.
4

Once you have logged in, select the option you want to purchase.

5

You can either ask for more information or pay immediately.

6

View a more in depth description of the voucher or start the payment process.
7

View and accept the terms of agreement by sliding the tab so it turns green.

8

Choose one of the available payment methods.

9

Pay with Paypal or with your credit card.
9a

Select to pay with your Paypal account.

10a

Log in to your Paypal account with your email or phone number.

11a

Check the details and confirm the transaction. You will be charged on the credit card registered to your Paypal account.
9b

Select to pay with your credit card.

10b

Enter the required personal information and credit card details and click continue.

11b

Check the details and confirm the transaction.
12

The app automatically generates the voucher as a QR code ready to be redeemed.

13

Keep track of the coupons you have purchased and are still valid, those that you have already redeemed and those that have expired.
9a

Select to pay with your credit card.

10a

Use the camera of your smartphone to automatically detect your credit card details.

11a

Check the details and confirm the transaction. You can also save them for your next purchase.
Previous
Next
Keep everything under control
Manage your vouchers as you please: create them and update them through the control panel.
View the list of transactions carried out by the customers.
The number of vouchers redeemed and amount earned is always available to monitor.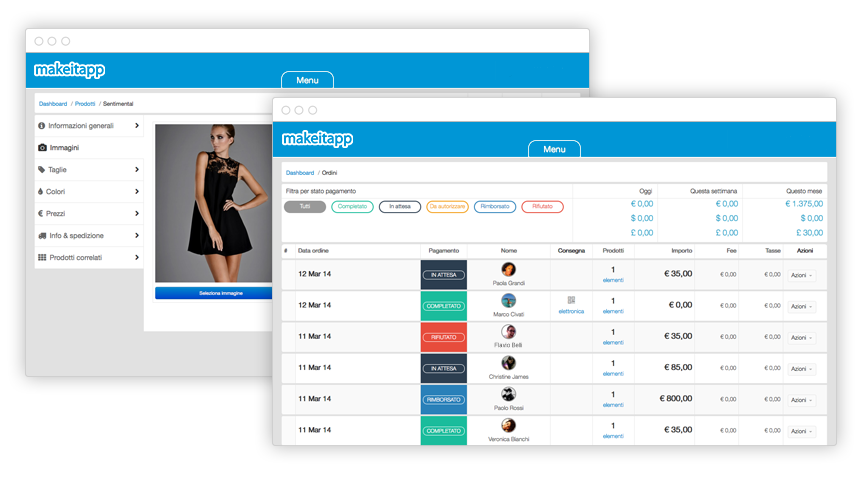 Scan the vouchers with your smartphone
Use your smartphone to read the coupons brought to you! They can be scanned, checked and validated with an application provided by Makeitapp.
2

The validation screen shows the product purchased, the user's name and the date of the purchase. The voucher can be redeemed or if it has already been used, the app indicates that it is no longer valid and shows the date it was previously redeemed
Previous
Next